Our trip to the WWDC developers conference started this year with a sketchy, sketchy landing in Oakland. Many people prefer to fly into Oakland because of the cheap price and direct flights from smaller cities and we were able to find a direct flight from Boise for a modest fare.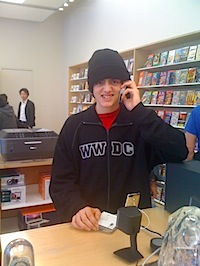 Although there are a number of hotels close to the Moscone center, we chose the Mosser for several reasons. First it was inexpensive, second they had free wifi, and third it was halfway between the Apple store and the Moscone Center west. The Mosser is a hotel that recently underwent a multimillion dollar restoration, and is over 100 years old. One of the most amazing features of the Mosser hotel is the inclusion of a full music studio on the premises.
While this hotel features a great proximity to the venue, it does not have one thing, and that is air conditioning. Our room, which is a single and has a shared bathroom and shower down the hall, has a ceiling fan that we will have on high almost the whole time we are here I'm sure.
After checking in we went down to the Moscone center to register, pick up my badge and found out that the event has the most useful swag since the LassoSoft cooler bags from the Fort Lauderdale Lasso Developer Conference. We've got cool track jackets in force. See as pictured here.
After registering no WWDC would be complete without a trip to the Apple Store, which is one of the first built. The apple store in San Francisco is one of the first built and is a stunning example of the design that has set Apple apart as a design leader in the computing world.
Plenty of people have posted pictures of these glass staircases, in fact there's even a story about them being sold on eBay before. I admit that I was amazed at how the stairs looked and clocking in at over 300 pound myself was a little skeptical to step on them. Supposedly the one that was broken in the New York store was cracked when someone accidentally dropped a Snapple bottle on it.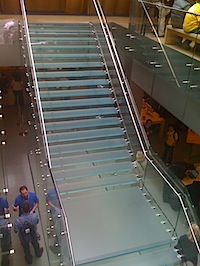 After leaving the Apple Store we wandered around downtown San Francisco for a while. Developers were everywhere out in force, sporting the new WWDC track jackets with the number "10" centered on the back. Almost ten years after the first Apple Store was opened, and a decade into Apple's comeback to computing there truly could be no better time to be here.
So what's supposed to happen tomorrow at the keynote? Rumors are flying wild but here's a short list:
--from Ars
Time will tell. Let's see what happens tomorrow.